May 5, 2016 — 23:41
---
Through a Camel's Eye, the first of my sea-change mystery series, is now available as a paperback and ebook from the For Pity Sake website.
The ebook is also available on Amazon and other sites.
Thanks to all my friends who attended the launch in Queenscliff. It was an occasion to remember!
Joan Kerr, of Gert Loveday fame, has written a generous review of Through a Camel's Eye which you can read here.
Thanks again to all the wonderful people who've helped me get this far. Through a Camel's Eye is my tenth novel to be published. I've at last reached double figures -yeah! It really does feel like a milestone.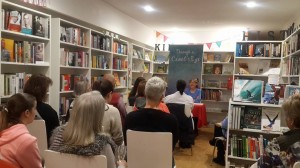 Last Friday (May 6) I gave an author talk at The Book Bird in West Geelong. Thanks to Anna, the bookshop proprietor, for hosting the event, and to everyone who came along!