March 17, 2013 — 23:52
---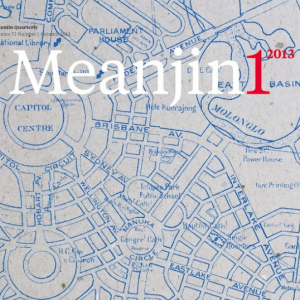 Canberra has turned a hundred, and March is the birthday celebration month. Meanjin's centenary issue was released last week and I'm lucky enough to have a story included; it's called 'Mrs B'. At just over 2,000 words, my story is a modest contribution, and indeed fiction is modestly represented in the issue as a whole. There are four short stories, compared with sixteen non-fiction pieces – essay, memoir, the section titled 'Perspectives' which begins the issue, and the superb Meanjin Papers section about Walter and Marion Griffin. Add to this the conversation with Christos Tsiolkas and the twelve poems, and you'll see what I mean.
Does this matter? Not a bit. The qualities I look for in a good short story – originality, attention to detail, authenticity of voice – are there in abundance in the non-fiction pieces, and – it would be a surprise if this weren't the case – in the poetry as well. I read the issue in several sittings – or rather lyings on the couch – over the weekend, and, as I sat down to write about it, I realized that it was the simple acts of bearing witness that moved me the most, the way the different contributors have of homing in and saying, 'Yes, this is way it is; this is the way it was, and is.'
I'll go further and say that I believe it is these simple acts of bearing witness, rather than arguments and counter-arguments, that will, in the end, dismantle the myths about our national capital, myths too well known, and enumerated by me in other places, to repeat here.
I'm not going to refer to every contribution that impressed me; this blog post is by not meant to be any kind of comprehensive review; but I'll begin with Andrew Croome's quiet and reverent description of Mount Stromlo after the 2003 bushfires, and his comments on the observatory's history, as an example of the kind of 'witnessing' I mean. On the subject of fire, there is the excellent poem, 'As Flames Were My Only Witness' by Russell Erwin. And going back in time, David Headon's 'The Genius and the Gypsy: Walt and Marion Griffin in Australia and India' is a piece I cannot recommend highly enough. If you read the issue for nothing else, read it for this. Headon's scholarship, his elegant prose, and his own humanity shine through.
It is fitting that monumental buildings are given their due place, but it's the ironic, scaled, human perspective that drew me in and made me want to read about them. Two of the memoir pieces – 'Very Happy to be Here' by Yolande Norris, and 'Constructing a City, Constructing a Life' by Marion Halligan are good examples of a refusal to be over-awed by generalised assumptions, but to state, in lyrical and careful prose, what is.
I plan to write more posts about Canberra's younger generation of writers in the coming months, as well as Canberra's not-so-young-any-more, but not as well known as they should be writers too.
March 9, 2013 — 2:13
---
My review of Iris Lavell's debut novel, Elsewhere in Success, was published in the Sydney Morning Herald, the Age and the Canberra Times online today. It's an interesting and well-crafted novel, the more so, in my view, for not flaunting its achievements. I'll be posting more about this review and others soon. Just in case you're wondering about the novel's title, Success is an actual suburb of Perth, Western Australia, named after the HMS Success, and 'Elsewhere'? Well, I recommend that you read the book.