August 1, 2015 — 4:55
---
My review of Stephanie Bishop's second novel, The Other Side of the World  was published in the Fairfax newspapers this weekend. Bishop was named one of the Sydney Morning Herald's Best Young Australian Novelists for her first novel The Singing.
This second one – and the other side of the world is Australia, viewed from the northern hemisphere, mainly England – tells the story of a young couple who emigrate to Fremantle in the 1960s.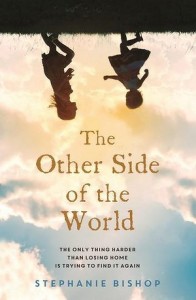 I won't repeat the points I make in my review, except to say that The Other Side of the World is an accomplished, moving novel. Instead I'm adding a few thoughts about historical fiction and contemporary writing styles, which I didn't have the space to mention in my 700 word review.
It's commonplace to say that historical fiction has enjoyed a renaissance in the last couple of decades, and that this includes works set in the distant, as well as the more recent past – a category that includes Stephanie Bishop.
Bishop's intimacy with her characters, and the thin membrane which separates their inner lives from the physical worlds around them, works admirably for the story that she has to tell. She says in her acknowledgements that the novel was inspired by the migration of her grandparents. Bishop can draw on universal themes of exile and displacement without having to confront  the thorny problems an author faces when dealing with historical events that are widely known, and people who are part  of general, that is more than family, history.
Bishop's up-close-and-personal way of writing has become very familiar to me in recent years as a reviewer and a reader – so much so that deviations from it are unusual. An interesting example is Emily Bitto's The Strays, which won the 2015 Stella prize. Many reviews have been written of The Strays, most of them highly favourable, and the novel, in my opinion, has much to recommend it. But it popped up in a facebook discussion recently where questions were raised about book's glittering, imagistic surface compared with the depth and solidity of historical events that took place during the time that the novel covers, events such as the Great Depression, which are not so much engaged with as part of the author's project, as occasionally referred to.
I'm not putting any of this forward as a way of criticising Bishop, but I do believe there are issues peculiar to historical fiction, matters which ought not to be overlooked, though they often are. These include how to create the resonance of time passing – often a long time –  between the characters and events of the novel and the author's and reader's present; and how to bring the past to life without pretending, or encouraging the reader to pretend, because she or he feels so 'close' to the characters, that it is, necessarily, anything like the world we live in today.
October 10, 2014 — 1:34
---
This year I  was privileged to judge the Barbara Jefferis Award, together with Margaret Barbalet and Georgia Blain. Actually, the award was for two years, 2013 and 2014. There were 72 entries from 32 publishers, plus a small number of self-published novels.
Here is our shortlist:
Amy Espeseth: Sufficient Grace (Scribe)
Tracy Farr: The Life and Loves of Lena Gaunt (Fremantle Press)
Jacinta Halloran: Pilgrimage (Scribe)
Margo Lanagan: Sea Hearts (Allen & Unwin)
Fiona McFarlane: The Night Guest (Penguin Books)
Margaret Merrilees: The First Week (Wakefield Press)
Drusilla Modjeska: The Mountain (Vintage Books)
A further novel was highly commended: Laura Buzo: Holier Than Thou (Allen & Unwin)
Barbara Jefferis was a feminist, a founding member  of the Australian Society of Authors and its first woman president. (See my earlier post about her and the award.)
Judging the award was a lot of fun, but hard, because there were many sparkling contenders. One thing that stands out for me about our shortlist is that the books on it couldn't be more different – apart from the quality of the writing, of course.
The Mountain is an ambitious, panoramic novel spanning the years since Papua New Guinea gained independence, while The First Week, as its title suggests, takes place over only a few days, with a small cast of characters. Sea Hearts is a fantasy novel, and The Night Guest rubs shoulders with the surreal. Jacinta Halloran explores ethical and emotional dilemmas within a realist framework, as does Tracy Farr.
By referring to genre categories, I don't want in any way to diminish the originality of the shortlisted books, but to point out their diversity.
Another interesting point to note is that, out of seven shortlisted titles, four were published by small (or small to medium-sized) publishers, although by far the greatest number of entries were submitted by the 'big names' – Penguin, Random House, Allen& Unwin and so on. In making our selection, we didn't discuss publishers at all, and it's only now, in writing this post, that the comparison has occurred to me.
I'll have more to say about the shortlist, but I wanted to end this post on a personal note. The award entries I've been reading and thinking about over the last two and a half months are associated for me with the places I read them. I live near the sea and often sat with a favourite view of Port Phillip Heads and two or three novels beside me. At other times the wind was cold, and I found a sheltered spot by the mouth of the Barwon River.
Then, as my friends who read this blog will know, my mother became ill. (She died on July 30.) I took books to the hospital to read. I couldn't stand staring at the walls, and it didn't seem to be any kind of insult to my mother, who loved reading and had considerable success herself, with poetry and short stories. It's a strange kind of accident, I suppose, but some of the entries – I won't name them – will be forever linked for me with wards and nurses and a morphine drip.