November 27, 2012 — 21:52
---
Author:
Dorothy Johnston
Category:
Comments:
Off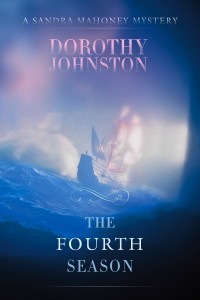 The Fourth Season is the fourth book in the Sandra Mahoney mystery quartet. It was always my intention to write four, one for each season. This one is autumn, and completes my quartet.
I'm proud to say that The Fourth Season has been awarded the Awesome Indies seal of approval, which means it has been recognised as a quality independent publication.
(Published by Wakefield Press as an ebook in 2014). The Fourth Season deals with the topical issue of who is going to win the battle for control over the seas surrounding Australia, with the environmentalists lined up on one side, and the fishing, oil and gas industries on the other.
When the body of a young female environmental activist and science student, Laila Fanshaw, is found floating in Lake Burley Griffin, Sandra Mahoney's life is turned upside down, not least because her partner, Ivan Semyonov, was in love with Laila. Ivan is a suspect and has no alibi for the time of death.
A further strain is put the relationship when another suspect, Don Fletcher, who worked in the Federal Environment Department, wants to hire Sandra to help him clear his name.
Against opposition from her partner, Ivan, Sandra says yes and takes on the assignment.
Laila was a complex person, good friends with a Greens senator, and committed to her cause, but also unscrupulous in her use of men, and an accomplished hacker. While Sandra is attempting to understand Laila's character, and the events that led to her murder, there is another 'death by water'. This time the body of professional diver, Ben Sanderson, is found in Sandra's local swimming pool.
Sandra has to weigh up her desire to learn the truth against her children's needs. Only six-year-old Katya is Ivan's natural child; adolescent Peter has a different father. But both children are deeply affected by Laila's death and Ivan's reaction to it. Added to this, Sandra's friend, Detective Sergeant Brook, is absolutely against her involvement in the case.
Laila had a secret passion, and though this passion was connected to her love of the sea, nobody who knew her guessed what it was. In pursuit of this passion, she stumbled on a major criminal activity.
It takes all of Sandra's ingenuity and courage to steer herself, and her family, through the dangers that lead to an eventual unmasking of the truth.