March 13, 2014 — 5:41
---
I'm proud to say that I've been chosen as one of the judges for this year's Barbara Jefferis Award.
The following information is copied from the Australian Society of Authors website.
'Barbara Jefferis was a feminist, a founding member of the Australian Society of Authors, its first woman President and, in the words of Thomas Keneally, 'a rare being amongst authors, being both a fine writer but also organisationally gifted. She was a professional and internationally published writer long before most of us dreamed of such things.
The Award is paid from the Barbara Jefferis Literary Fund, which has been established as a result of a bequest from Barbara Jefferis's husband, ABC film critic John Hinde, who died in 2006. The Australian Society of Authors is Trustee of the Fund. In 2014 the Award is valued at $50,000.'
And this year ebooks can be submitted, for the second time – the first was in 2012. For the first time, self-published books can also be submitted, subject to conditions detailed in the submission guidelines. As a judge and as an author, I applaud these developments.
As Lucie Stevens, Program Manager for the ASA says, 'The ASA has accepted ebook submissions for the Barbara Jefferis Award since 2012, in recognition of the increasing number of publishers with digital-only imprints. This year, we have further expanded the criteria to include self-published works (print and/or ebook editions) with mainstream distribution. The ASA receives hundreds of publishing-related queries from authors every month. These queries provide us with valuable information about the publishing models offered by publishers, and the choices authors are making about the publication of their works. Each year, we review the guidelines for all our grant and award programs, to ensure they reflect current trends.'
The ASA offers its members the chance to publish their own ebooks under Authors Unlimited, and is very supportive, in other practical ways, of Australian writers attempting to understand and navigate the digital revolution.
Most of the time I feel energised and excited by the new possibilities and opportunities. Ebooks have given me, and countless others like me – some formerly published in print and some not – a way to think of the future and an expanded horizon.
I can't help recalling Miranda, watching the strange, exotic ship on her horizon.
'O wonder!
How many goodly creatures are there here!
How beauteous mankind is! O brave new world,
That has such people in't.'
These lines from Shakespeare's The Tempest are ironic, according to some interpretations, and Aldous Huxley's Brave New World, published in 1931, famously turns irony into satire. It's easy to satirise and deride ebook authors and their hopes of setting sail, but I prefer to look on the bright side.
January 24, 2013 — 22:40
---
Irma Gold tagged me for the 'Next Big Thing'. If you haven't reached this post from her blog post about the next big thing then you can read it here.
What is 'The Next Big Thing'? It's like one of those old-fashioned chain letters where authors promote their own work and tag five of their colleagues to create a huge network of linked web and facebook pages about what everyone hopes will be 'The Next Big Thing'.
1) What is the working title of your next book?

Nine Pieces on Prostitution
2) Where did the idea come from for the book?

The book will be a collection of my prostitution stories written over some thirty years, so obviously ideas for stories came from different places; but one, which is a very long story, almost novella length was inspired by a client dying 'on the job' as it were, and what the women did with the body.
3) What genre does your book fall under?

Short stories
4) What actors would you choose to play the part of your characters in a movie rendition?
Now that's a curly one: I can't somehow see a movie of a short story collection; but one, in particular, I think would make a great movie. It's called 'An Artist's Story' and is about an architect who's hired to design a brothel, and her friend, ho becomes involved with the house, and the women who work there. The female lead I envisage being played by Cate Blanchett. The music score would include lots of Tracy Chapman.
5) What is the one-sentence synopsis of your book?

A collection of stories on a theme that has intrigued me for my entire writing life.
6) Will your book be self-published or represented by an agency?

I plan to self-publish the collection on Smashwords.
7) How long did it take you to write the first draft of the manuscript?

No single story took me very long, perhaps a couple of months for 'Where The Ladders Start', the longest in the collection.
What other books would you compare this story to within your genre?
John Clanchy's 'Her Father's Daughter' is a collection of stories on the theme of father/daughter relationships, and, since I admire Clanchy's writing very much, I'll be so bold as to cite it here. While there are obviously plenty of short story collections based around a theme, I really don't think there is much of a precedent for my 'Nine Pieces'.
9) Who or what inspired you to write this book?
My first novel, Tunnel Vision is set in a Melbourne massage parlour in the 1970s, and the oldest story in 'Nine Pieces' was written in the '70s as well. I think it was the extreme oddness of the sex industry in Melbourne at that time, the theatricality and subterfuge and madness! of it that got me in, and that has stayed with me.
10) What else about the book might pique the reader's interest?
Some – more than half – the stories are very Canberra. I think prostitution is a great way to write about the underside of our national capital. I would also like to mention that one of the stories, titled 'Mrs B' has been chosen for inclusion in Meanjin's Canberra centenary issue. I'll be writing about this special issue in a later post.
If you'd like to read more about Nine Pieces on Prostitution you can do so here.
I have tagged Lucy Sussex
Lucy Sussex is a writer, reviewer and editor, whose work ranges from children's writing to the herstory of women crime writers. She has either written or edited over 20 books, published internationally. Her next big thing, deadline July, is VICTORIAN BLOCKBUSTER: FERGUS HUME AND THE MYSTERY OF A HANSOM CAB. It looks at the story behind the biggest-selling detective novel of the 1800s, one which created the market for Conan Doyle and Sherlock Holmes. VB touches on much, from theatre history to a copycat murder, and how a small-press book from the colonies conquered the crime-reading world.
And Margaret Innes, who says,
I have one completed manuscript of contemporary fiction titled A Bracelet of Bright Hair requiring some redrafting. I'm also well into an historical novel City of Men where I examine the life of one of the earliest surgeons, William Redfern. Writing this has proved one of the most interesting experiences I've had as a writer.
Maureen Cashman writes
The flyleaf note of Maureen Cashman's memoir, 'Charlie and Me in
Val-Paradis' published by Simon and Schuster in 2008, begins, 'With a
poodle clutched in one arm and notes for an epic historical novel in
the other'. That epic historical novel is still simmering away, but
meanwhile, Maureen is working on a story that's been on her backburner
much longer. We will soon be able to read twelve-year-old Francie
Keegan's Secret Compositions, written in 1956, which tell the real
story of her life and of the bizarre events of her last year in
primary school at the mercy of a manipulative teacher.
January 20, 2013 — 23:01
---
This post is a follow-on from my last one, in that I'm writing it out of a resurgence of memories regarding literary Canberra. A nice bit of serendipity over the weekend has resulted in my website going live at the same time as James Ley's review of 'Republics of Letters: Literary Communities in Australia', edited by Peter Kirkpatrick and Robert Dixon, was published in The Australian. It's a thoughtful review, engaging with the book's arguments about literary communities and the fraught nature of the term, and including a wide range of examples.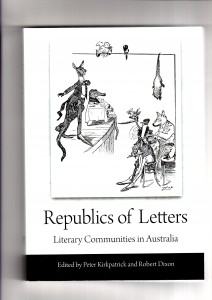 And it's taken me back to D'Arcy Randall's chapter on 7 Writers.
D'Arcy begins by remarking how, in 'the 1970s, Australia's thriving literary scene was typically associated with networks of male writers in such urban bohemian venues as Balmain in Sydney and Carlton in Melbourne.'
And how well I remember that! I was trying to be a writer in Carlton in the '70s and it was very important to drink in the right pubs, and to look the part. When my journalist partner was offered a job in the Press Gallery, instead of moving to Canberra with him, I decided on a foolish geographical compromise called Sydney. Then, after ten months on the highway – I was often too poor to afford the train fare and I'm lucky I didn't end up buried in the Belanglo State forest – I gave in and settled in Canberra.
The relief was enormous. Here was a small, feisty literary community – and yes, I use the term 'community' aware that contains many kinds of ambivalence – where it didn't matter what pub you drank in, or if you drank in any pub at all.
D'Arcy has been painstaking in gathering information about our writers' group – where we met, how often, what we did, how many books we published between us. How torn we often were!
Of course, we're still publishing, but 7 Writers ended its collective life in the late 1990s, and with, its end, the centrifugal pull, the push outwards, the ongoing battle between solitary creative compulsion and the possibility of actually sharing flowed away.
I've always liked Edith Wharton's description of how writers view their work, indeed are forced to view their work, from the back of the tapestry. They can't walk around the front and look at it; this is an impossibility. Well, writers' groups are like that too, I'm discovering. It's a strange, unsettling, delightful experience to have something you participated in, were intimate with, for almost twenty years, presented from the right side of the tapestry, but without the presentation glossing over or hiding the knots. Thank you, D'Arcy!
And 'Republics of Letters' contains other treats as well, including a chapter on my favourite Australian writer, Christina Stead and her no-longer neglected masterpiece, The Man Who Loved Children.
* D'Arcy Randall was born and educated in the US, but during the 1980s she lived in Brisbane, where she was senior editor at the University of Queensland Press. She there worked with Marian Eldridge and Marion Halligan on their first books. After returning to the US, she founded the journal Borderlands: Texas Poetry Review and began a teaching career at the University of Texas at Austin.