January 10, 2015 — 2:57
---
My review of Crow Mellow was published in the Fairfax Press today.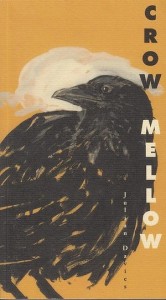 The back cover blurb consists of two sentences. 'This book is a novel. It has drawings on every page.'
While only the name of the writer, Julian Davies, appears on the front cover, Phil Day's drawings are an essential part of the reading experience, and so I think it's fitting to include both names in the title of this post.
Most often, the drawings surround the text; sometimes an illustration occupies a whole page, and half of the adjoining one, so that the words are nestled within it. Of course, this kind of reading experience is familiar to us from children's picture books.
Day's drawings are often ironic, sharp, and poke fun at themselves as well as the fictional characters they depict. Since I'm writing this post on January 10, 2015, I can't help being aware that any cartoon or satirical illustration has acquired a whole new depth of resonance this week, and will probably retain it for quite a long time to come.
Who is being satirised in Crow Mellow?  As I say in my review, it's a bunch of people staying in a rich man's country house. Crow Mellow is modelled on Aldous Huxley's debut novel, Crome Yellow, published in 1921. Davies' protagonist echoes Huxley's – an aspiring writer beset by self-doubt. In both books, the wealthy host is writing a family history. There is a beautiful young woman with whom the protagonist is in love, and a bitter, wordy individual, who acts as a kind of chorus, in the tragic sense, to the mostly frivolous proceedings.
In an interview with Sally Pryor, Julian Davies talks about writing and publishing these days, and in particular Finlay Lloyd, which he established as a non-profit publishing venture in 2005, initially as a partnership with four people.
'"The thing I realised is what a hidebound set of conventions book publishing is bound by, and literary people don't even think about it," (Davies) says. "And sadly, often literary people aren't very visual and most books are horribly over-designed. Even the better publishers, the books are so covered with gumph because everyone's so scared of their book not selling. They cover it and smother it, and there's no room for designers to really design."'
'By the time Davies had become fed up with mainstream publishers, Phil Day and his then-partner were already producing handmade books in small editions as Finlay Press in Braidwood. With Davies, they decided to start publishing books together, and their great friend, the artist Robin Wallace-Crabbe, was also keen to be involved. But eventually Day and his partner split up, Wallace-Crabbe drifted away from the process, leaving Day and Davis to their own joyful devices.'
Pryor's interview is informative and interesting, well worth reading in its entirety. As is Crow Mellow. I'm just sorry I'm not clever enough to be able to scan a double page of the story, plus illustrations, for this post.