January 20, 2013 — 23:01
---
This post is a follow-on from my last one, in that I'm writing it out of a resurgence of memories regarding literary Canberra. A nice bit of serendipity over the weekend has resulted in my website going live at the same time as James Ley's review of 'Republics of Letters: Literary Communities in Australia', edited by Peter Kirkpatrick and Robert Dixon, was published in The Australian. It's a thoughtful review, engaging with the book's arguments about literary communities and the fraught nature of the term, and including a wide range of examples.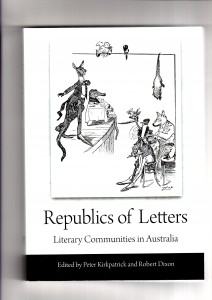 And it's taken me back to D'Arcy Randall's chapter on 7 Writers.
D'Arcy begins by remarking how, in 'the 1970s, Australia's thriving literary scene was typically associated with networks of male writers in such urban bohemian venues as Balmain in Sydney and Carlton in Melbourne.'
And how well I remember that! I was trying to be a writer in Carlton in the '70s and it was very important to drink in the right pubs, and to look the part. When my journalist partner was offered a job in the Press Gallery, instead of moving to Canberra with him, I decided on a foolish geographical compromise called Sydney. Then, after ten months on the highway – I was often too poor to afford the train fare and I'm lucky I didn't end up buried in the Belanglo State forest – I gave in and settled in Canberra.
The relief was enormous. Here was a small, feisty literary community – and yes, I use the term 'community' aware that contains many kinds of ambivalence – where it didn't matter what pub you drank in, or if you drank in any pub at all.
D'Arcy has been painstaking in gathering information about our writers' group – where we met, how often, what we did, how many books we published between us. How torn we often were!
Of course, we're still publishing, but 7 Writers ended its collective life in the late 1990s, and with, its end, the centrifugal pull, the push outwards, the ongoing battle between solitary creative compulsion and the possibility of actually sharing flowed away.
I've always liked Edith Wharton's description of how writers view their work, indeed are forced to view their work, from the back of the tapestry. They can't walk around the front and look at it; this is an impossibility. Well, writers' groups are like that too, I'm discovering. It's a strange, unsettling, delightful experience to have something you participated in, were intimate with, for almost twenty years, presented from the right side of the tapestry, but without the presentation glossing over or hiding the knots. Thank you, D'Arcy!
And 'Republics of Letters' contains other treats as well, including a chapter on my favourite Australian writer, Christina Stead and her no-longer neglected masterpiece, The Man Who Loved Children.
* D'Arcy Randall was born and educated in the US, but during the 1980s she lived in Brisbane, where she was senior editor at the University of Queensland Press. She there worked with Marian Eldridge and Marion Halligan on their first books. After returning to the US, she founded the journal Borderlands: Texas Poetry Review and began a teaching career at the University of Texas at Austin.