February 11, 2013 — 5:24
---
My Invisible Thread interview is finally up on youtube. I'm the lucky last in the series that Irma Gold, editor extraordinaire, has made for the anthology, The Invisible Thread: a hundred years of words, celebrating the centenary of Canberra. I'm proud to be included. Both the interviews and the book are marvellous chronicles of writing produced in and about the national capital.
January 20, 2013 — 23:01
---
This post is a follow-on from my last one, in that I'm writing it out of a resurgence of memories regarding literary Canberra. A nice bit of serendipity over the weekend has resulted in my website going live at the same time as James Ley's review of 'Republics of Letters: Literary Communities in Australia', edited by Peter Kirkpatrick and Robert Dixon, was published in The Australian. It's a thoughtful review, engaging with the book's arguments about literary communities and the fraught nature of the term, and including a wide range of examples.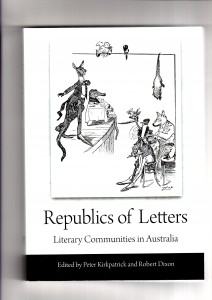 And it's taken me back to D'Arcy Randall's chapter on 7 Writers.
D'Arcy begins by remarking how, in 'the 1970s, Australia's thriving literary scene was typically associated with networks of male writers in such urban bohemian venues as Balmain in Sydney and Carlton in Melbourne.'
And how well I remember that! I was trying to be a writer in Carlton in the '70s and it was very important to drink in the right pubs, and to look the part. When my journalist partner was offered a job in the Press Gallery, instead of moving to Canberra with him, I decided on a foolish geographical compromise called Sydney. Then, after ten months on the highway – I was often too poor to afford the train fare and I'm lucky I didn't end up buried in the Belanglo State forest – I gave in and settled in Canberra.
The relief was enormous. Here was a small, feisty literary community – and yes, I use the term 'community' aware that contains many kinds of ambivalence – where it didn't matter what pub you drank in, or if you drank in any pub at all.
D'Arcy has been painstaking in gathering information about our writers' group – where we met, how often, what we did, how many books we published between us. How torn we often were!
Of course, we're still publishing, but 7 Writers ended its collective life in the late 1990s, and with, its end, the centrifugal pull, the push outwards, the ongoing battle between solitary creative compulsion and the possibility of actually sharing flowed away.
I've always liked Edith Wharton's description of how writers view their work, indeed are forced to view their work, from the back of the tapestry. They can't walk around the front and look at it; this is an impossibility. Well, writers' groups are like that too, I'm discovering. It's a strange, unsettling, delightful experience to have something you participated in, were intimate with, for almost twenty years, presented from the right side of the tapestry, but without the presentation glossing over or hiding the knots. Thank you, D'Arcy!
And 'Republics of Letters' contains other treats as well, including a chapter on my favourite Australian writer, Christina Stead and her no-longer neglected masterpiece, The Man Who Loved Children.
* D'Arcy Randall was born and educated in the US, but during the 1980s she lived in Brisbane, where she was senior editor at the University of Queensland Press. She there worked with Marian Eldridge and Marion Halligan on their first books. After returning to the US, she founded the journal Borderlands: Texas Poetry Review and began a teaching career at the University of Texas at Austin.
January 18, 2012 — 22:06
---
I have decided to call my first blog post 'Feelings of déjà vu' because I've recently been back to Canberra, for a book launch and an exhibition opening, and these visits have brought back many memories and images from my life in the national capital. I lived in Canberra for thirty years before returning to Victoria in 2008.
'The Women who made Canberra' exhibition, on at the Canberra Museum and Gallery , is part of the city's centenary celebrations, and open till March 2013. It features women who contributed to Canberra's political, social, sporting and cultural life over the past hundred years.
It includes a possum cloak belonging to Matilda House, an elder who identifies with the Ngambri and Ngunnawal people of Canberra.
Matilda House performed the welcome to country ceremony at the opening of the 42nd Parliament in Canberra on 12 February 2008. It was the first time a welcome to country ceremony had been held for the opening of the Federal Parliament. As Mrs House explained on that day, "A welcome to country acknowledges our people and pays respect to our ancestors' spirits who have created the lands…It is a good and honest and decent and human act to reach out and make sure everyone has a place and is welcome."
Mrs House burned the designs on the cloak, drawing on imagery of the Murrumbidgee River, the Brindabella Range, bush tucker and the wedge-tailed eagle and brolga.
The youngest woman in the exhibition is Lauren Jackson, born in 1981 and now an internationally famous basketball star.
And my writer's group, 7 Writers, is featured as well.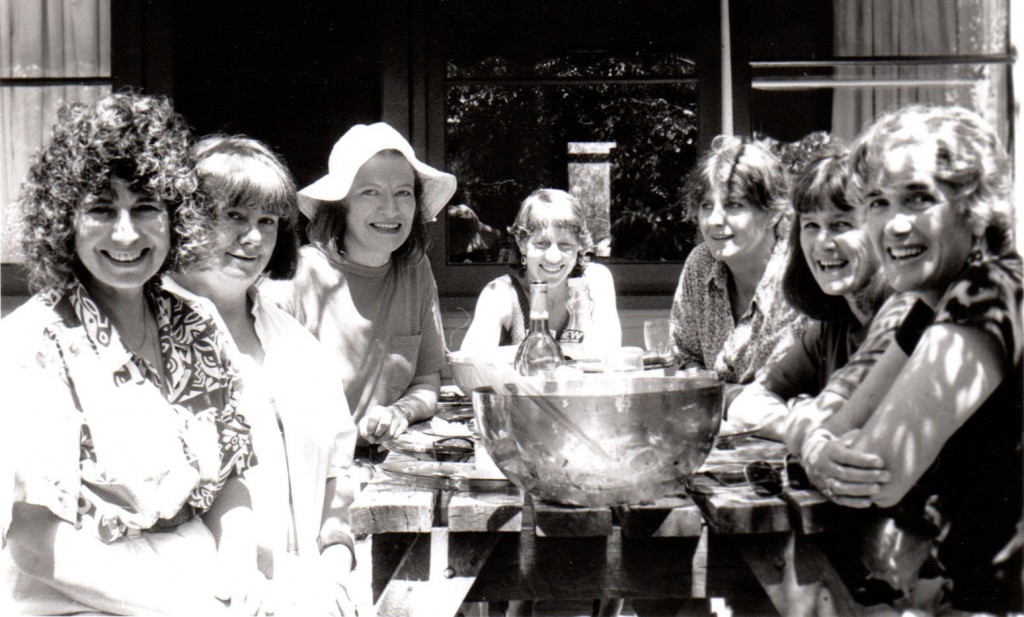 This is my favourite photograph of us, taken by Brenda Runnegar. The seven are, from left to right: Sara Dowse, Marion Halligan, Margaret Barbalet, me, Dorothy Horsfield, Suzanne Edgar and Marian Eldridge.
The display for the exhibition includes a selection of our books and notes taken by Suzanne Edgar at one of our monthly meetings.
We started meeting as a writers' workshop in the early 1980s and continued until after Marian Eldridge's death in 1997. We became known for our longevity and the vigour of our discussions (some of which were televised!) I think we continue to be of interest to the reading public because of a mistaken, but persistent view that Canberra is somehow inimical to the creative life. The myth is fading, but it still pops up in the most surprising places. I've written about it in an essay called Disturbing Undertones.
For anyone interested in reading more about '7 Writers' and other Australian literary communities, an excellent book has recently been published called Republics of Letters: Literary Communities in Australia. Our chapter, by D'Arcy Randall, is called 'Seven Writers and Australia's Literary Capital'.
While I was in Canberra, I recorded an interview as part of the publicity for The Invisible Thread : One Hundred Years of Words. The anthology includes a story of mine called 'The Boatman of Lake Burley Griffin'.
Here is an impressionistic account of the interview. When I sat down to write the account, it came out differently from the way I intended; I think of it as an example of the unpredictable way that memories surface.
Two kayaks are going past, as silently as swans. I am sitting in the shade of European trees, around the corner from where both my children were born, from where the hospital used to be that so spectacularly killed a girl when it imploded. And I think of my son, of whom I am about to speak, who lay desperately ill in that same hospital, only eleven months after he came out into the world inside it. And how long it took him! And how happy and exhausted I was! I am not here to speak about the birth, but about the illness, which gave rise to the story which began my love affair with Canberra. A literary love affair, but that makes it sound too cerebral, too much a matter of the mind alone. My story, 'The Boatman of Lake Burley Griffin', has found its way into an anthology called The Invisible Thread, celebrating a hundred years since the founding of our national capital. A curious word that, 'founding' – like being born and yet not like it at all.
I'm here to be interviewed about literary Canberra, and I give my interview, under the shadow of the trees, but in my heart thirty years have lifted off. Thirty years lift off my shoulders and I'm around the corner, with the hospital rising at my back, and my son whom I cannot bear to look at no bigger than a skinny mouse with tubes going every which way, and on the lake an old man in a long coat, going round the edges, looking for a way out…
I've written a great deal about Canberra, from fictional and non fictional points of view. But I know that, now I've found them again, nothing will ever again replace those earliest images, and the desperation that gave rise to them.